Cork and Carve!
---
|
Is your perfect ski home one where après-ski refreshments include a glass or two of locally sourced wine? We introduce you to some of the Alps' wine regions that are also home – or very close to – some of the world's finest ski resorts. Let's all drink to that!
Savoie – French Alps
Oenophiles who are seasoned visitors to the French Alps will almost certainly be familiar with wines from the established Jura region, nestled between Burgundy and Switzerland. You may have tried them in a ski resort or occasionally in an upscale restaurant back home.
In recent years though, vintages from neighbouring Savoie have crept on to the wine lists of the more fashionable bars and restaurants in the Alps and beyond. The region's wines have always been an affordable staple in most resorts (only five per cent is exported), but today's producers are upping their game.
Dotted around the Alpine foothills, Savoie's 2,000-plus hectares of vineyards are split into 23 sub-regions, concentrated between Geneva and Chambéry. Most of its wines are fresh, light whites and rosés, often with a floral aroma.
"Savoie wines are fresh, light whites and rosés, often with a floral aroma"
Of course, skiing in Savoie is world famous, thanks to its 3,000-plus kilometres of pistes spread between some of the largest ski areas in the world. Its internationally acclaimed resorts include Tignes and Val d'Isère, La Plagne, Les Arcs, not forgetting those of Les Trois Vallées, including Courchevel and Méribel.
Bugey – French Alps
Lesser known Bugey is a small wine region that's often overlooked in favour of its neighbours – Savoie on its eastern border and Jura to its north. Nonetheless, its 470 hectares of rugged vineyards, many of which are high altitude and have views of Mont Blanc, produce some exciting and affordable Alpine-style wines, predominantly from family-run wine-growers. Bugey produces reds and light whites, but its speciality is sparkling rosé – a refreshing tipple after a hard day on the nearby Savoie slopes.
Valais – Swiss Alps
Arguably one of the world's most under-appreciated vine-growing nations, the Swiss produce and consume wine with as much gusto as any other country in Europe. The difference is they keep most of it for themselves – and who can blame them, as like everything they do, it's a quality product.
Championing Swiss wines is Valais, a mountainous canton south-east of Lake Geneva that accounts for more than a third of the country's wine production. Its 5,000 hectares of vineyards, many of which are terraced and covered in snow each winter, follow the Rhône River valley for around 100 kilometres, with some ranking among the highest in Europe. Boasting a huge range of grape varieties, including rare indigenous ones, the character of Valais wine is rich and diverse. Red is the dominant colour, accounting for circa 60 per cent of vintages.
Experienced skiers will know Valais well as its home to the mighty Matterhorn and world famous resorts of Verbier, Zermatt, Saas Fee and Crans-Montana. Unsurprisingly, the finest Valais wines flow freely in each of these, and a popular way to spend a day away from the slopes includes a tour and lunch amongst the nearby vineyards.
Vaud – Swiss Alps
Switzerland's second largest wine region (there are six in total), Vaud fans out from the northern shores of Lake Geneva and meets Valais in its south-eastern corner. Producing a quarter of all of Switzerland's wine, its famous for its steep vineyard terraces overlooking the lake between Epesses and St Saphorin. Its strength lies in fresh and fruity whites made from the Chasselas grape.
A standout resort in Vaud is Villars-sur-Ollon, which is part of the Villars-Gryon-Les Diablerets ski area, situated in a scenic spot between Lake Geneva and Mont Blanc. One of the closest resorts to Geneva, its slopes look down on 200 hectares of vines, with wine cellars waiting for you to visit in the nearby villages of Ollon and Bex!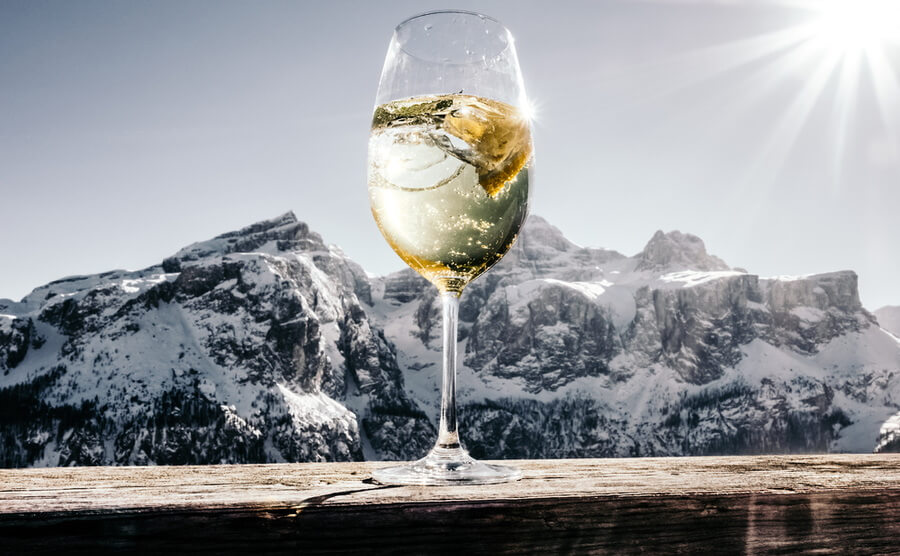 Alto Adige – Italian Alps
Occupying the most northern corner of Italy, mountainous Alto Adige shares an Alpine border with neighbouring Austria. Also known as South Tyrol (or Südtirol), despite being a region in its own right it's often grouped with the Italian region to its south, Trentino. Its historic connections with Austria are still evident in the grapes grown there, the names of its wine estates and German being widely spoken still.
Alto's 5,400 hectares of vineyards are peppered across the foothills of the Dolomites, which forms a section of the Italian Alps, many up there with Europe's highest. The region is most famous for its award-winning reds, although it produces an equal amount of refreshing whites, including bottles of Gewützraminer and Pinot Grigio.
The Dolomites in Alto Adige are home to one of Europe's largest skiing areas. The Dolomites Superski links 1,200 kilometres of slopes and 12 resorts, including Cortina d'Ampezzo, Alta Badia and Val Gardena.